Credits
This guidebook was written entirely by Bob McElrath.
FS9GPS Module Guidebook
"FS9GPS Module" is a guide for working with FS9's gps.dll module. It contains definitions and examples of fs9gps's 320 variables, and discussion of some xml coding techniques such as ICAO Transfer and Cycle Skipping that are sometimes needed when working with fs9gps.
In Version 1.1 (June, 2011), a few mistakes contained in the original Guidebook have been corrected and a few graphics updated.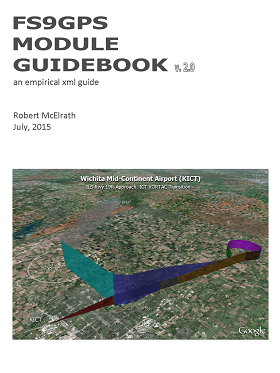 Download
Download only the Version 1.1 changes:
fs9gps Guidebook CHANGES v1.1.pdf
v1.1 - 491 KB
Or, download the entire document:
fs9gps Complete Guidebook v1.1.pdf
v1.1 - 7,645 KB
Contact
Feedback is solicited and welcome.
rpmcelrath@ymail.com